Apple Campus 2: The Future of Sustainable Architecture
2 min read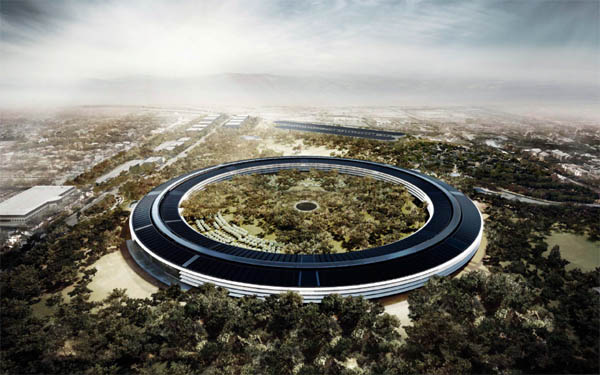 As you walk around the picturesque city of Cupertino, California, especially down 1 Infinite Loop, a grandiose, and glistening 2.8 million square foot structure captures your attention. You wonder, what that spectacular building structure could be? It looks out of this world, is it a spaceship or a mothership? Actually, it is actually the construction site of Apple's new headquarters,  Apple HQ (also known as Apple Campus 2). This $5 billion dollar project is set to occupy 176 acres, it has a floor area of 2,800,000 square feet with four floors, and a lush exterior greenery. Construction of Apple HQ is expected to be finished by the end of 2016 with its official opening in 2017.
The Building Structure
Boasting a neo-futuristic design, Apple HQ is being designed by the British Architect Lord Norman Foster, owner of Foster and Partners. The building will be over one mile in length. Its curved glass exterior is composed of 3,000 solar panels that are each 46 feet long and 10.5 feet wide, covering approximately 70,000 square feet of the building's rooftop. These will be placed around the building using custom machines called Manipulators in order to fit the curvature required for the building structure.
The interior of the building will feature a fitness center worth $75 million and have running and walking paths. There will also be a 60,000 square foot restaurant with two four story-high glass doors. The restaurant can seat 2,800 employees, and about 12,000 employees can sit in the patio area.
There is also a 120,000 square foot auditorium, nicknamed the "Theatre" situated in the building's underground area with seating area for 1,000 people where future Apple product launches will be held. The theater's lobby is completely made of glass, allowing for a 360-degree view, with steps that lead to the main event area in the theatre.
In addition to this already impressive building structure, it will have the largest free standing carbon-fiber roof that has ever been constructed. The roof has 44 identical radial panels that average 70 feet long and 11 feet wide. The solar panels were made by the Dubai-based company Premier Composite Technologies. Though visitors are not allowed access to the main building, there is an Apple Store on the main street where visitors are welcome to make their desired Apple purchases.
Open Office Space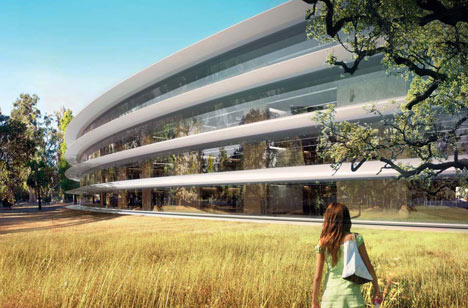 Energy efficiency is a key part of Apple HQ as throughout the year it runs without air conditioning or
heating. Instead, it effectively capitalizes on the the mild weather of Cupertino through the building's fresh air ventilation system. Capturing the natural beauty of Cupertino, the area around the building will be filled with lush greenery for the open space and walking paths.
As Steve Jobs rightly said, truly Apple HQ could be "the best office building in the world". Perhaps the reason for this is that it shifts away from the standard office workspace. Here, not only are your ideas able to move freely, but so are you. Work productivity is not simply measured by the number of hours you sit behind your desk but what you are able to actually produce.
Therefore, to increase productivity, an inspiring environment like Apple HQ is needed. More so, gone are the old days of the hierarchical structure within Apple, as its new O-shaped  building with six kilometres of glass takes shape.
Powering Apple HQ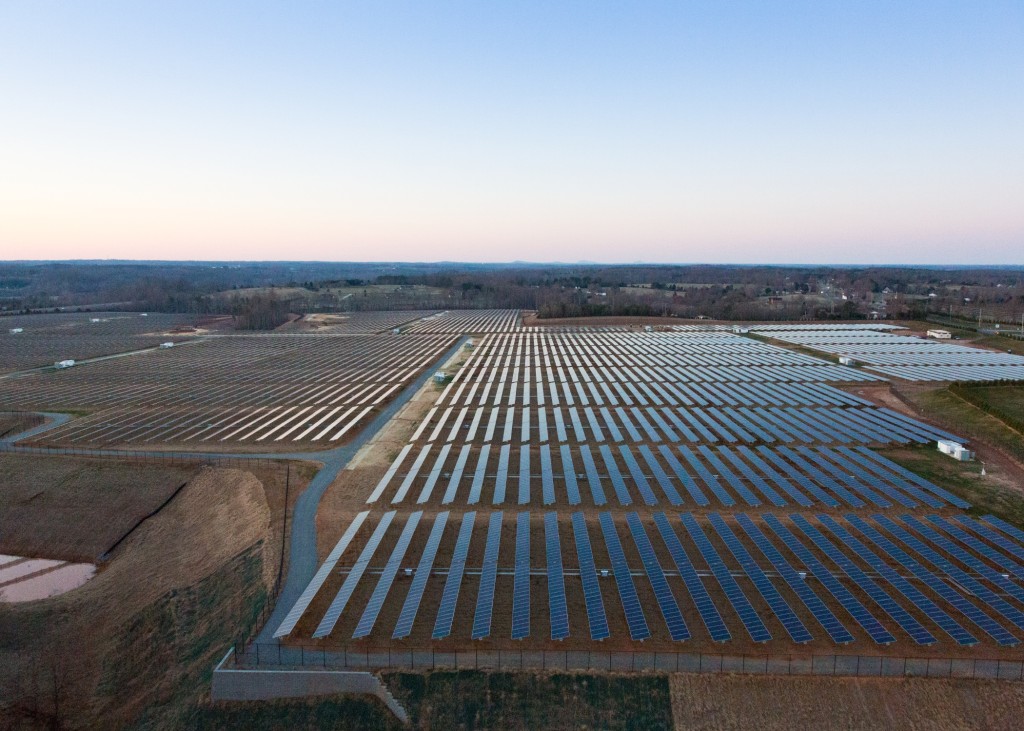 As part of Apple's move towards embracing increased sustainability on our planet since climate change is evidently a reality, Apple has planned to partner with First Solar, a solar panel firm based in Monterey California, for a 25 year deal, which is actually the longest clean energy power deal the US has seen to date.
This massive, Monterey based, 2,900 acres solar farm will have portion off about 1,300 acres of the farm to Apple for an abundant energy supply to power the spectacular Apple Campus 2.
The amount of energy powering Apple's HQ could be compared with the amount of energy that could power 60,000 homes. Now that's a whopping amount of energy. This $850 million project is seen not only as a great investment to provide 130 megawatts of energy to the Apple Campus 2 but also to 53 of Apple's retail stores in California and its main data center. Apple also uses renewable energy sources for its data center located in Maiden, North Carolina, which uses power generated by on-site solar panels and fuel cells. Apple is truly becoming a clean energy efficient company.
Apple is definitely not only looking at short-term renewable energy investment as it plans on increasing the number of solar panels it generates its energy from by acquiring space on three solar panel farms. It is also looking to make its subsidiaries across the world entirely powered by solar panels as Apple's operations in Singapore kicked off in January 2016 as the first company to solely run on solar energy with the help of the Singapore based solar energy developer Sunseap Group.
As we can see first hand with Apple's new building, companies and individuals are definitely becoming more aware of the growing impact they have on the environment. Their increased adoption of renewable technologies brings us closer to a planet where the integrity for current generation and future generations is preserved for many more years to come. Perhaps we could efficiently and effectively create energy by solely using renewable energy.