Get Ready for The 5th International Conference on Smart Cities and Green ICT Systems
1 min read
SMARTGREENS 2016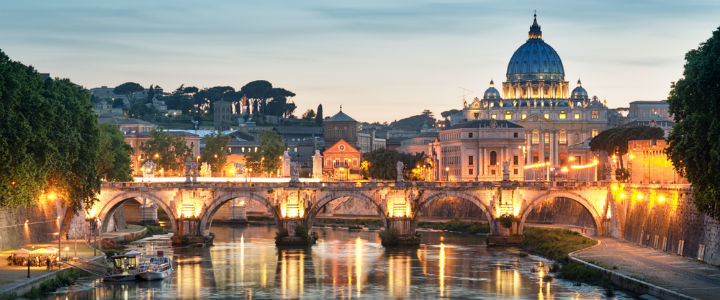 The fifth edition of the SMARTGREENS conference (5th International Conference on Smart Cities and Green ICT Systems) organized by INSTICC (Institute for Systems and Technologies of Information, Control and Communication) will take place from 23 to 25 of April 2016 in Rome, Italy.
The purpose of the 5th International Conference on Smart Cities and Green ICT Systems (SMARTGREENS) is to bring together researchers, designers, developers and practitioners interested in the advances and applications in the field of Smart Cities, Green Information and Communication Technologies, Sustainability, Energy Aware Systems and Technologies. SMARTGREENS 2016 will be held in conjunction with CSEDU 2016, WEBIST 2016, CLOSER 2016, VEHITS 2016 and IoTBD 2016.
One of the most important contributions that SMARTGREENS brings about is the creation of a high-level forum in collaboration with the most prestigious internationally recognized experts, including names such as Markus Helfert (Dublin City University, Ireland) as a Conference Chair, Cornel Klein (Siemens AG, Germany) and Brian Donnellan (National University of Ireland, Maynooth, Ireland) as Program Co-Chairs. SMARTGREENS 2016 will have several invited keynote speakers, who are internationally recognized experts in their areas, such as Paolo Tenti (University of Padova, Italy), Giovanni Giuliani (HP Italy Innovation Centre, Italy), Barbara Pernici (Politecnico di Milano, Italy) and Venkatesh Prasad (Ford Motor Company, United States).
Conference Areas
Each of these topic areas is expanded below but the sub-topics list is not exhaustive. Papers may address one or more of the listed sub-topics, although authors should not feel limited by them. Unlisted but related sub-topics are also acceptable, provided they fit in one of the following main topic areas:
1. SMART CITIES
2. ENERGY-AWARE SYSTEMS AND TECHNOLOGIES
3. SUSTAINABLE COMPUTING AND COMMUNICATIONS
Area 1: SMART CITIES
Case Studies, Business Models and Innovative Applications for Smart(er) Cities
Human Smart Cities
Intelligent Transport Systems and Traffic Management
e-Mobility and Smart Transport
Intelligent Buildings
Urban Monitoring and Optimization
User-Centred and Participatory Design of Services and Systems for Smart Cities
Innovation Labs, Experimental Test-Beds and Simulation Environments
Mechanisms for Motivating Behaviour Change
Internet-Enabled Infrastructures and Services
Service Innovation and Design to Support Smart Cities
e-Health systems
Smart Sensor-Based Networks and Applications
Big Data and Urban Data Analytics
IS Architecture Designs and Platforms for Smart Cities
Case Studies and Innovative Applications for Smart(er) Cities
Planning and Design Challenges for Smart Cities
Frameworks and models for Smart City Initiatives
Safety, Security, and Privacy for Smart Cities
Area 2: ENERGY-AWARE SYSTEMS AND TECHNOLOGIES
Architectures for Smart Grids
Load Balancing in Smart Grids
Energy Management Systems (EMS)
Economic Models of Energy Efficiency
Energy Monitoring
Renewable Energy Resources
Greener Systems Planning and Design
Virtualization for Reducing Power Consumption
Evolutionary Algorithms in Energy Applications
Scheduling and Switching Power Supplies
Energy Profiling and Measurement
Harvesting Energy
Energy-Aware Process Optimisation
Optimization Techniques for Efficient Energy Consumption
Microgeneration
Smart Energy Storage
Area 3: SUSTAINABLE COMPUTING AND COMMUNICATIONS
Wireless Systems and Networks
Security and Privacy
Wearable Computing
Green Data Centers
Algorithms for Reduced Power, Energy and Heat
Green Communications Architectures and Frameworks
Qos and Green Computing
Integration of Smart Appliances
Embedded Sensor Networks
Smart Homes (Domotics)
Educational Ecosystems
Green Computing and Education
Case Studies on Green Computing and Communications
Interoperability
Energy Efficient Network Hardware
Energy-Efficient Communication Protocols
Internet of Things
Green Software Engineering Methodologies and Tools
Virtualization Impact for Green Computing
Green Computing Models, Methodologies and Paradigms
All accepted papers will be published in the conference proceedings, under an ISBN reference, on paper and on CD-ROM support. SCITEPRESS is a member of CrossRef (http://www.crossref.org/) and every paper is given a DOI (Digital Object Identifier). All papers presented at the conference venue will be available at the SCITEPRESS Digital Library  http://www.scitepress.org). The proceedings will be submitted for indexation by Thomson Reuters Conference Proceedings Citation Index (ISI), INSPEC, DBLP, EI (Elsevier Index) and Scopus.
Further information about SMARTGREENS 2016 can be found at the conference website smartgreens.org