Support Mymiti: The World's First Global Sustainable Community Platform
1 min read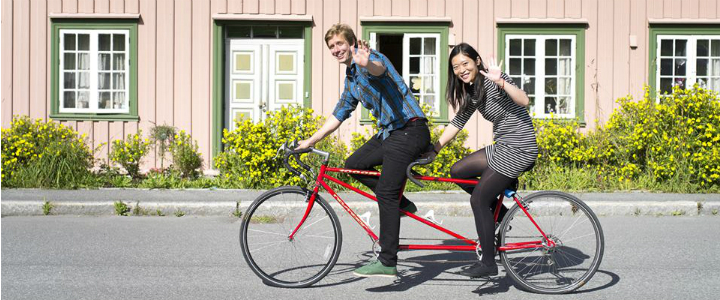 A new Kickstarter campaign has started to raise funds for Mymiti, an "interactive sustainability platform that will help individuals, companies, organizations and even municipalities share effort, inspiration and ideas to mitigate climate change and other environmental challenges".
Mymiti was founded in Trondheim, Norway by a 4-people team concerned with climate change and determined to prevent further damage to the environment. They believe that sharing sustainable initiatives will enhance motivation, spread knowledge and create a sense of community. The platform will make environmental activism more fun and social through projects, challenges and activities. Most importantly, according to developer Ying Li, Mymiti will help create a new approach to one of our most pressing issues.
"Mymiti.com will be a global platform that makes it fun and easy for people to share their everyday efforts in reducing environmental impacts and where they can recommend new technologies, creative solutions and products to others," said co-founder and manager, Gard H. Hansen. "Visibility, we believe, will increase the value and effect of the environmental effort. So people and firms will be able to share, track and support their day-to-day eco-friendly choices but also share more creative and innovative approaches—and products—such as eating bugs instead of red meat, life hacks to reduce waste and new renewable energy technologies."
Individuals could track day-to-day choices such as walking to work instead of driving, taking meat-free weekdays, you commenting on the ups and downs of your new solar panel, your initiative to increase the environmental awareness of your friends and neighbours, or perhaps your proposal for a new eco-friendly product.
Municipalities, cities and neighbourhoods can use Mymiti to show how they work and cooperate as a community to reduce emissions in new and smarter ways.
Businesses can promote their good actions on Mymiti; e.g. anything from how they reduced waste in the office canteen, to their efforts to implement, develop or sell environmentally friendly technologies and solutions.
The campaign is now live and ends on October 22.The beta version of Mymiti.com is scheduled for release in November 2015 and backers are still needed to help pay for development work.
In true Kickstarter fashion, by backing the Mymiti campaign pledgers can receive perks such as eco-friendly t-shirts, reusable jute shopping bags, reflective armbands, an invitation to the launch and even the ability to borrow a private, primitive cosy cabin in Meldal (Norway) for a week. Pledgers also have a direct say in how the website is built. "Mymiti is not quite finished yet, so people can still contribute and get the opportunity to influence the development of a small, but important online community from day one", says Hansen.
Once Mymiti.com is developed, it will be available for free.