Waste Management in the UK
1 min read

Is There a Future for the Recycling Sector?
By 2020, the United Kingdom and the other European Union countries will have to meet an European directive saying that 50% of waste produced should be recycled. In 2030, the target will be placed to 70% of waste recycled.
If this target sounded reachable at the beginning of 2000, it is now crystal clear that none of the European countries will be able to deal with it and show positive results. Even if in 2013, the UK rates demonstrated positive results, being one of the EU countries with the highest rate of recycling, the British government is going backwards. You can see all the latest UK plastic recycling statistics via this Plastor resource.
Indeed, it recently dismissed a proposal from the European Environment agency urging the EU members to adopt new directives to cut waste and improve recycling. Therefore, the UK government goes in a frontal confrontation with the EU institution, as it was said that this measure would be non-negotiable. The EU is protesting against the lack of engagement of the British government towards improving its recycling initiatives.
Even if the government is shown as the black sheep in the UK, some companies decided to take a step forward. It is the case of Selfridges, which recently embraced the recycling movement by stopping selling plastic bottles in its food halls and restaurants. Instead, consumers are invited to bring their own reusable bottles to fill them up at water fountains especially planned for this effect, and to buy water bottles made out of glass or carton.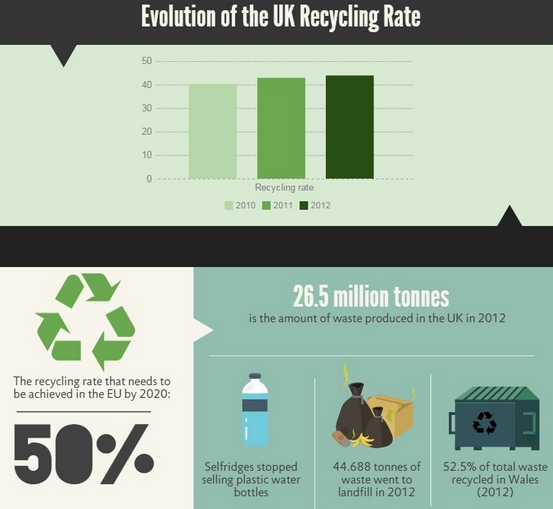 Today, the Office for National Statistics (ONS) released its new Statistical Bulletin concerning 2015 UK Environmental Accounts. From 2010 to 2012, the UK households reduced their waste by 2.2%. The region producing the most waste being England, with 22 million tonnes in 2012 out of the total 26.5 million in the United Kingdom.
The United Kingdom recycling rate in 2012 was approximatively of 43.9%, a rate that increased by 3.6 points compared to 2010.
An important fact to take into account is that half of UK's waste comes from the construction sector, then comes the commercial and industrial activities that accounted for 24% of the total waste produced in 2012. Finally, household waste accounts only for 14% of the total waste. Therefore, we could think that the government should focus harder on decreasing the waste generated by the construction sector.
Out of the different regions, Wales is the one that performs the best concerning waste management. Indeed, in 2012, the region had a recycling rate of 52.5%, which proves that the target established by the European Environment Agency is reachable. It remains to know when the UK will be able to get to this measure. It still has less than 5 years to increase its efforts and diminish its waste production and the amount that is sent to landfill.