It's Scary…How Much Trash Americans Make Every Day
1 min read
The 4 R's: Reduce, Reuse, Recycle and Repurpose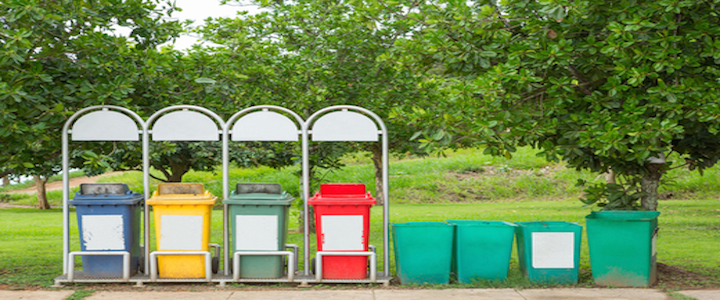 The average blue whale weighs 100-tons; Americans throw away about 6,750 blue whales worth of trash every day. According to the Environmental Protection Agency (EPA), Americans generated over 250 million tons of trash in 2012; 87 million tons (34.5%) were recycled and composted. The rest goes to the over 3,000 landfills in the United States.
The containers supplied by your local trash collection service come in several colors and sizes, depending on where you live. If you fill up the small size container, you go to a larger, more expensive, container. But, if part of your trash goes to recycling and/or curbside composting, you won't need the big trash container. Some cities like Ventura in California, offer free curbside composting. Green Lifestyles Network  suggests composting, which is free to the consumer, helps to save money, and also saves space for trash in the landfill. Landfill and waste management companies make money by collection and disposal of your trash, so they are generally against these free services.
Solid waste, what is it?
Plastic, packaging, bottles, bags, diapers, clothes, tires, everyday items discarded by homes, business, schools, and hospitals. Once trash leaves your house, it is sent to one of three types of landfills: a dump, a sanitary landfill, or a municipal solid waste landfill. Although there is a liner used in the sanitary and municipal solid waste landfills, all three have the likelihood to seep leachate (contaminated water) into the ground water. Landfills are the second largest source of human-related methane; methane is 20% more potent than any other green house gas.
But is it business as usual? Trash for cash? It doesn't have to be. The average American makes 4.5 pounds of trash each day. Much of this trash does not belong in the landfill. But what can you do? Let's sort the trash and see.
Recycling is the key!
By now, most of us are good at recycling: plastics with the recycle symbol are sorted and put in the recycle bin; food containers are rinsed and put in the recycle bin; bottles and cans may be recycled for pocket change. Clothes should be passed down, donated, or reused for rags or projects. Repurpose or donate furniture, bicycles and other equipment. Check with your local recycling service or waste management service for disposal of other items such as concrete, bricks, dirt, scrap metal, nails, appliances, batteries and paint. (Some of these items can be donated to Restore or Habitat for Humanity.)
Stop wasting food!
More than 40% of the food produced in the United States goes to the landfill. 10% of food in restaurants ends up in the trash. Yet 17 million children in the United States go to bed hungry every night. When food has turned a little brown, passed the "sell by" date or is left-over, restaurants and grocery stores simply toss the food. This food can be collected and donated to one of the many food banks or homeless programs in the U.S.
If we make less waste, less waste goes to the landfill. There are things you can do to make less waste: buy products with less packaging, bring your own bags shopping, buy less at the grocery store – make a list and stick to it. Compost your garden, yard and food scraps, or donate them to a community garden or school. So, don't let the thought of trash frighten you – remember the 4 R's: reduce, reuse, recycle and repurpose.