Going Beyond Sustainable Construction
2 min read
The AGC Glass Building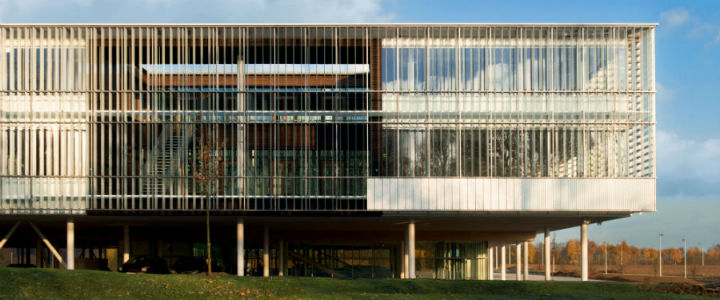 While some places are still left behind in matters of environmental awareness, others are standing out from the crowd and embracing revolutionary projects. The green energy trend is definitely here to stay and more often we will be surprised with new renewable technologies, sustainable buildings and other projects that will change our lifestyles and preserve our environment.
Some countries seem to be competing to get the "World's largest" title for sustainable projects. Surprisingly, the USA and China, known for their high levels of carbon emissions, have so far the largest solar photovoltaic power plant and solar energy office building respectively. Apparently (and hopefully) this competition will get tougher as more countries join the green trend.
On the30th of September 2014, AGC Glass Europe has inaugurated a nearly zero-energy building, under the name AGC Glass Building. The challenge in this case was not only to reach the most efficient use of energy, but to make it in a way that is visually attractive and user friendly in all ways. The building serves as the new headquarters of AGC Glass Europe and it showcases the glass solutions the company has to offer, making strong emphasis on sustainability.
Some History of the AGC Glass Building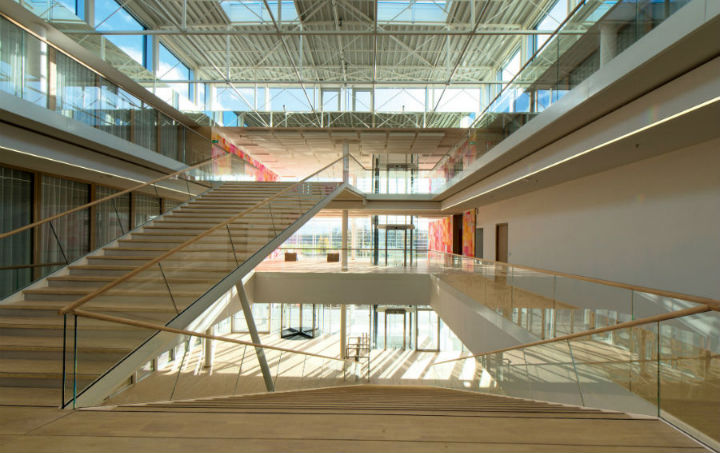 AGC Glass is the world's largest producer of flat glass and AGC Glass Europe is the European branch of this company. The European headquarters are located in Belgium but the company has more than 100 sites around Europe employing around 14,500 people. AGC Glass produces, processes and markets flat glass for several industries like car manufacturing, solar energy and construction industries.
ACG Glass Building is home to the new headquarters of the glass manufacturer in Louvian-la-Neuve in Belgium. It serves as the showroom for all the glass solutions the company has to offer and brings together around 500 employees that used to be spread in various sites around the country. The building was designed following 3 conditions: it had to be sustainable, timeless and innovative.
AGC Glass Building has successfully gained the title of a "nearly-zero energy building" since is has been designed to be low energy consuming and to produce its own green energy. The materials used for construction are mostly sustainable and also architects strived to protect water and biodiversity.
Glass was the star material used for constructing the building, as it not only identifies the company but it has also proved successful to admit a maximum amount of light in the building while protecting its occupants against the sun's heat and glare. In order to maximize the use of sunlight and natural heat, designers used innovative double glazing with enhanced thermal insulation and louvres of screen-printed glass. Moreover, they implemented a mix of renewable sources of energy to make the building self sufficient in matters of electricity. 900 solar panels were installed on the roof of the building and also heat pumps were fitted in the ground.
Sustainable Construction and Businesses
AGC Glass Building is one recent example to prove that it is possible to run successful businesses while being environmentally friendly. This company has not only achieved a nearly zero-energy building but has also designed a building that successfully shows the company's own interests and objectives. Hopefully, as environmental awareness increases and the benefits of investing in green energy are more evident, more people and businesses will opt to invest in renewable sources of energy and sustainable solutions.
Solar energy is getting rapidly popular not only to power buildings but also for domestic households. The same case with heat pumps, which are more often demanded for residential purposes. This is the result of improvements in renewable technologies and a significant drop in their prices. Moreover, governments are starting to put more pressure on businesses to invest in green energy. Plus, people are more aware of climate change and therefore better informed (and more demanding) when buying. In the future more people will choose companies that are environmentally friendly.