UK Emerges as One of the Largest PV Markets in Europe
2 min read
UK is an example of a country where, partly due to legislative solutions, solar energy is increasing at a rapid pace. The goal of the British government is to have a 20GW photovoltaic system by 2020. This will contribute towards meeting the UK's target of 15% renewable energy from final consumption by 2020.

Rise in demand has been due to growing concern to protect the environment from pollutants and issues related to energy security. The solar energy market can be looked at from many perspectives, as its characteristics are not limited to environmental, but also economic benefits.
The British system of feed-in tariffs for photovoltaic plant operators is designed to give continuous support for 20 years. While small photovoltaic systems in the UK benefit from feed-in tariffs, larger photovoltaic farms are still covered by a system of green certificates, called Renewable Obligation Certificates. Due to the feed-in tariff and Renewable Obligation regimes, there is stronger demand in northern parts of the country and ground-mount PV segments.
The UK Market in Numbers
Around 500.000 homes benefit in 2014 from solar PV installation, while only 400 commercial projects are being up and running. The opportunity for installing more commercial projects is massive, there is enormous vacant, roof space on warehouses, top of factories, supermarkets, car parks and other commercial and industrial buildings. Furthermore, it is estimated that 250,000 hectares of commercial roofs are south facing, which is ideal positioning when installing Solar Pv's.
According to DECC, UK's  solar PV capacity at the end of December 2013 stood at 2,779 MW. It is forecasted that in 2014 the country will add 2,875 MW of solar PV. Looking back at 2006, the country had only 12.5 MW of photovoltaic capacity installed, reaching 750 MW in 2011.
DECC further aims to have 1 million roof installations by the end of 2015. The Government buildings are going to contribute to this target. 1 GWp of solar PV is planned to be installed on  buildings, schools, hospitals and land over the coming years. Part of this project, the Government will lead an initiative specifically targeted at England and Wales' 24,000 public schools.
UK's Major Solar Projects
At the end of April 2014, there were 48 completed solar farms generating power in the range of 10-20 MW.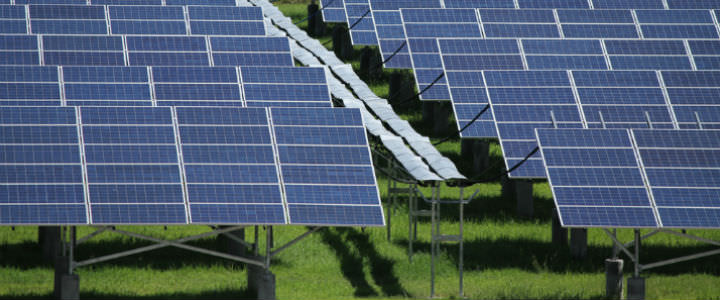 Leicestershire is home of the first large solar farm in the United Kingdom. Construction for the 34 MW solar farm began in November 2012 at Wymeswold Airfield. The project consists of 130,000 solar panels positioned on land between the old runways at the site of a former World War II airfield. The solar farm costing £35 million is now fully connected the national grid.
Crundale, Pembrokeshire, is home of one of UK's largest photovoltaic ground mounted systems. The 37.8 MW solar farm was completed in just 8 weeks and got connected to the grid in October 2014. The site includes over 147,600 modules and is predicted to generate enough electricity to power over 11,000 UK homes.
Westmill Solar Co-operative is the first community owned solar farm in the UK.  Spread over the Oxfordshire/Wiltshire border, the farm covers approximately 30 acres of land. The solar plant has over 21,000 solar panels and has been in operation since since July 2011.Believed to be the  largest community-owned solar farm in the world, Westmill Solar generates 5 MWp of energy.
Will the UK Dethrone Germany?
Germany is currently the largest market for PV panels in Europe, with more the 30 GW installed capacity. During the years 1995 to 2013, Germany hold the top spot in solar PV installations. Only on one occasion, in 2008, it was overtaken by Spain's photovoltaic boom.
This year, market-research company Solarbuzz predicts that the UK will overtake Germany as Europe's largest installer of solar panels. The UK is forecasted to be the 3rd largest country for ground-mounted solar PV in 2015. Currently, China and the US hold the first 2 spots in ground PV capacity.
If current forecasts are proved accurate, the UK could become the leading country in Europe for solar PV. The drivers behind this shift are: large increase in demand, high competition and a combination of steady subsidies. This means that 2014 will mark the second time in 2 decades that Germany has not been ahead in the solar PV market.
With Europe accounting for 53% of the world's solar systems installations, European companies involved in PV market are at the forefront of the solar panel market. In 2012, The potential of photovoltaic power plants in Europe reached just over 70GW, which accounts for about 2.6% of Europe's demand for electricity.